Are you Secured?

We created Daily Safety Check
for the banking industry. Shouldn't
you have this level of security?

Next Generation Computer Defense

Prevention • Detection • Response
Prevention • Detection • Response
Daily Safety Check was originally created to protect high-risk banking systems, and today their technology protects over $3 billion in assets. The founders of Daily Safety Check realized that the same technologies and methods used to protect banks, which are constantly under attack, could be adapted to protect home and small business computers. Any top quality security system has principles, whether guarding a high risk computer system, or protecting a building, or even bodyguards protecting the president: prevention, detection and response.
Next Generation Computer Defense
We use our computers every day to communicate, connect with family and friends, share ideas, work, finance and keep up with the world that's changing in front of us. What if you woke up one day and your information or data was stolen or compromise by internet criminals?
---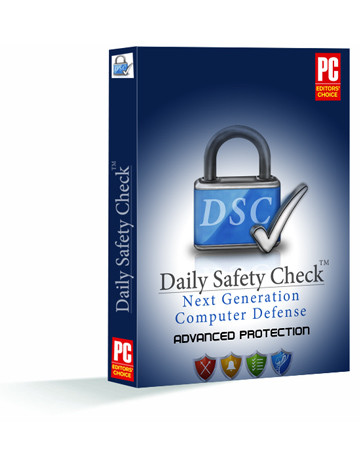 Who We Are
Daily Safety Check is the next Generation of Computer Protection. We invested time and money to create something that would provide web protection, 24/7 advanced monitoring agent, bank-strength security, malware protection, weekly reports, and real-time monitoring for hacker and attacks.

Top 4 myths of home computer security
Myth 1: If I have antivirus software installed, then I am safe
Reality: Antivirus is only a small part securing any computer.

---

Myth 2: I don't need to worry. I don't have anything but music, photos and videos on my computer
Reality: Hackers are increasingly focused on home computers.

---

Myth 3:Cybercrime isn't any worse now than in the past
Reality: Cybercrime is up sharply in the last year, and getting worse

---

Myth 4: I would know if I had a virus on my computer
Reality: Most viruses and malware don't slow down or crash your computer.

---
Our System Has Powerful Features
Advanced protection– beyond antivirus


---

Real time monitoring for intruders


---

Alerts and help if you are attacked


---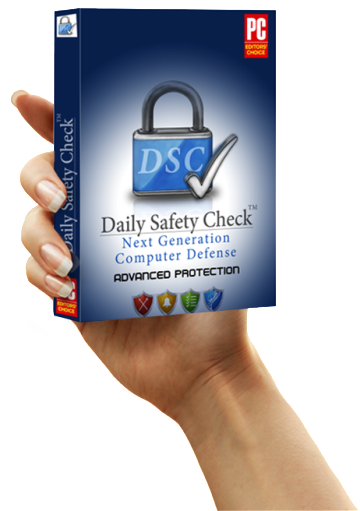 How It Works
Daily Safety Check gives you bank-strength security for your home computer. Just like a high-risk banking system, Daily Safety Check uses layers of security to ensure you are safe. Modern malware can watch your computer for months, building a profile of your passwords, finances, sensitive documents and identity
State of The Art AntiVirus
Every computer protected by Daily Safety Check Home Edition automatically includes Bitdefender Antivirus!
Vulnerability Management
Daily checks and updates security & firewall settings.
Real-time Monitoring
We look for signs of an attack, even if that threat isn't protected by antivirus software.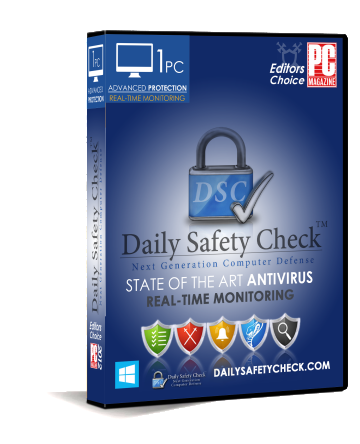 Help if you are attacked
Daily Safety Check has security professionals standing by 24 hours a day to help defend your computer.
Email alerts
Real-time email alerts in case of an attack. We will make sure that you'll never be caught unaware again.
Real-time response from security professionals
Assess the threat to your computer and provides computer forensics to understand what was compromised.
The Daily Safety Check Experience
I bought this anit-virus based on this review since McAfee failed me to the point I had to get a new PC after only 14 months. Initially, I had some challenges getting it installed. It was going fine until an Adobe prompt popped up and stopped the installation, but after connecting with their customer service and digging deep to remove all of the pre-installed blocks to installing this software instead of the below par McAfee, it works. I actually had a series of pop-ups showing me a Trojan being blocked and I receive a weekly report of what has been going on. The CEO of this company told me most anti-virus chase the intruder around once they have entered, but Daily Safety Check works on blocking them from ever getting in. Highly recommend. – Chiera Michelle King
Computer Security & Monitoring
Protect the privacy of data on your mobile, home and business computer and devices and assists with recovery if device is lost or stolen. Our products:
DSC Mobile Edition
DSC Home Edition
DSC Windows Server Edition
DSC Business Edition
---
Would you like to Learn more about Daily Safety Check?
Send us a message and we'll get back to you.